Tata Crucible Campus Edition 2018 – Navi Mumbai – Preliminary Round Questions
Results:
WINNER : IIM Indore Navi Mumbai – Ashish Mani and Prashant Singh
RUNNER UP : ITM Navi Mumbai – Arka Roy and Debarun Talukdar
Preliminary Round Questions:
Q.1. Which company was founded by Lee Byung Chull in 1938?
Ans. Samsung
Q2. Which Indian bank was founded in 1894 as a private banking company by Lala Lajpat Rai?
Ans. Punjab National Bank
Q.3.Glass's Guide is a guide book used to refer to the price of what?
Ans. Used Motor Cars
Q.4. A key feature of every bottle of which scotch is the Striding Man logo?
Ans. Johnnie Walker
Q.5. Which UAE based group was started by Mickey Jagtiani?
Ans. Landmark group
Q.6. If you are in the business of importing and exporting Beverly Hills, Cat's Head, English Beauty, Lord Nelson etc., which commodity are you doing business in?
Ans. Apples
Q.7. This term was first coined by Raelph Vaerst. It is credited to be first used by Don Hoeffler.
Ans. Silicon Valley
Q.8. Which American global aerospace, defence, security and advanced technologies industrial conglomerate was founded by Royal Little in 1923 as Special Yarns Company to manufacture synthetic yarns and other textiles?
Ans. Textron
Q.9. Lalji Gala started a bookshop in 1944. In those days selling second hand books was not common. Lalji Gala saw a business prospect in this and became a pioneer in selling second hand books in Mumbai. After this he started publishing books and founded a publishing house. Which famous Indian publishing house is this?
Ans. Navneet Publications
Q.10. FIDO is a coin with a minting error. What does D in FIDO stand for?
Ans. Defect
Q.11. Which company in India has bought this South African haircare brand?
Ans. Dabur
Q.12. These are the coat of arms of?
Ans. Bata Shoe Museum
Q.13. Who is this famous woman who is very famous among children?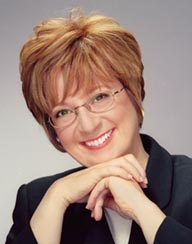 Ans. Betty Cohen, founder of Cartoon Network
Q.14. Which company had this old logo?
Ans. Procter and Gamble
Q.15. With whom would you associate the book 'What I Know for Sure'?
Ans. Oprah Winfrey
Q.16. Who is this famous French designer?
Ans. Pierre Balmain / Balmain
Q.17. 'Dil Toh Roaming Hai' is is the tagline of which company?
Ans. MakeMyTrip
Q.18. Which airline manufacturer has this logo?
Ans. Boeing
Q.19. Who is this famous management guru?
Ans. C.K. Prahlad
Q.20. Which food chain is this?
Ans. Goli Vada Pav